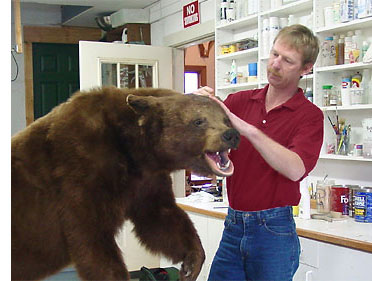 Serving Ohio counties Muskingum, Licking, Delaware, Perry, Fairfield, Guernsey, Coshocton and beyond.
Offering whitetail deer, wild turkey, exotics, wild boar, bear, African, upland and woodland game as gameheads or lifesize full body mounts. Fish, waterfowl and taxidermy habitat services also available.

Dan has competed in several taxidermists' competitions using clients' mounts, winning both state and national championships for his work.
Some of the awards include:
Best of Category, First Place, for his work on wild turkey at the National Convention for The Wild Turkey Federation.

People's Choice Award in the National Division for Game Head Division at the National Convention for the Wild Turkey Federation.

Best of Category, First Place, in State Competition at the Professional Taxidermist of Ohio Organization.

All efforts are made to give each client the same quality of workmanship, striving for the most natural and realistic mounts as possible.

Dan feels very strongly that taxidermy mounts should be completed as scheduled and works very hard to meet all scheduled delivery dates for his clients. With this in mind, a completion date is given to all clients when deposits are made. Delivery is also available for large taxidermy pieces within a certain radius from his studio.

Completion for game heads, small game and fish is 4-8 months. Large lifesize taxidermy pieces are normally 6-10 months. This is Dan's full time occupation, so satisfied customers are a top priority.

An Ohio native, taxidermist Dan Jennings began learning taxidermy at the age of 13 and graduated from Northwestern Taxidermy at the age of 14. He continued his taxidermy trade throughout high school and maintained his taxidermy career after graduation.
Due to his experienced expertise, Dan's opinion has been called for by various taxidermy supply companies. Some of this has led to featured taxidermy articles for aspiring and experienced taxidermists on other taxidermy web sites.

Wild Turkey Taxidermy Tips
www.hidetanning.net/WildTurkeyTaxidermyTips.html
Using STOP-ROT in Fish Taxidermy
www.hidetanning.net/FishTaxidermyStopRot.html
Taxidermy Tips Whitetail Deer Ear Butts
www.whitetailsystems.com/TaxidermyTipsClayEarButts.html


~
WHITETAIL DESIGNER SYSTEMS
www.whitetailsystems.com
and
Hide Tanning and Taxidermy
www.hidetanning.net
Quality Taxidermy Supply
www.qualitytaxidermysupply.com